$BlogRSDURL$>
Hive Mind
myBio dolls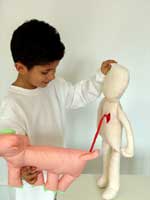 myBio dolls are a collection of educational dolls exploring the emergence of biological hybrids in biotechnologies, and our moral, social, cultural and personal responses to the strange and different in human biology and also "transhuman" creatures.

Learning from companies and organisations that produce educational dolls, designer Elio Caccavale and bioethicist Richard Ashcroft made twelve myBio dolls that could symbolise possible biofutures.

The use of narrative and myBio dolls can help children understand how to deal with applications of biotechnology, and with the social development of biotechnological knowledge. Tomorrow's children will need to know the key methods used in biotechnology so they can learn to understand the many ambivalent possibilities of biotechnology.

Starting with a series of "What if" stories, the narrative process gives children a common language for talking about biotechnology. "Suppose that your life could be saved by a pig, what would happen to you and the pig?" or "Imagine you could have a glow-in-the-dark rabbit, would you relate to such a rabbit differently than a conventional one?"


(Via
We-Make-Money-Not-Art
).
NEWS/BLOGS
23skidoo
Killswitch
Squidblog
Critical-v
SmartMobs
Digital-Falcon
Redbeard Gets Down
Reuters Alertnet
EurekAlert
New World Disorder
A Graboid Ate My Mommy
Lvx23
Science Daily
Indymedia
Boing Boing
Disinformation
Infoshop News
RealityCarnival
Technoccult
Posthuman Blues
Post-Atomic
Vortex Egg
Cult of the Dead Cow
Blog126
Anarchogeek
Mechanical Spirit
MySociety Blog
Nerdshit
LINKS/RESOURCES
Open Source, D.I.Y. Media/Tech:
DNAHack
Blackout Media Project
Biological Innovation for Open Society
Open Source Biotechnology
Downhill Battle
Hactivismo
Bureau of Inverse Technology
Carbon Defense League
2600
Critical Art Ensemble
TXTMob
Biotech Hobbyist Magazine
MySociety
Ubuntu Linux
Geopolitics:
Infoshop
CIA World Factbook
Spunk Library
Hyperhistory Online
Noborder Network
People's Global Action
Critical Resistance
Science/Math:
PlanetMath
Public Library of Science
MathWorld
Bioinformatics.org
Quantum Consciousness
MIT Biology Hypertextbook
NeuroPunk
Art/Culture/Misc.:
Ontogenesis
ELECTRONIC MUTAGENESIS
AvantGame
Art Crimes
Barbelith
Guns and Dope Party
Temple of the Screaming Electron
CTheory
Brain Tools:
Erowid
SMI2LE Nootropics
Bouncing Bear Botanicals
Online Books and Booksellers:
AK Press
Project Gutenberg
Autonomedia
Loompanics
Feral House
ARCHIVES
03/01/2004 - 04/01/2004
/
04/01/2004 - 05/01/2004
/
05/01/2004 - 06/01/2004
/
06/01/2004 - 07/01/2004
/
07/01/2004 - 08/01/2004
/
08/01/2004 - 09/01/2004
/
09/01/2004 - 10/01/2004
/
10/01/2004 - 11/01/2004
/
11/01/2004 - 12/01/2004
/
12/01/2004 - 01/01/2005
/
01/01/2005 - 02/01/2005
/
02/01/2005 - 03/01/2005
/
03/01/2005 - 04/01/2005
/
04/01/2005 - 05/01/2005
/
05/01/2005 - 06/01/2005
/
06/01/2005 - 07/01/2005
/
07/01/2005 - 08/01/2005
/
08/01/2005 - 09/01/2005
/
09/01/2005 - 10/01/2005
/
10/01/2005 - 11/01/2005
/
11/01/2005 - 12/01/2005
/
12/01/2005 - 01/01/2006
/
02/01/2006 - 03/01/2006
/